On the site of the current facilities for snow leopard, tiger, wolf and lion we are building «Panterra»: a big cat enclosure with a rotation system. Construction work will start in July 2023. The opening is planned for spring 2025.
Panterra is being built as part of the Development Plan 2050. The name is a word combination of Panthera – the genus name of the big cats – and Terra, the Latin word for earth.
Video: Zoo Zürich, Nicole Schnyder, Region Five Media
the experience
In Panterra, the big cats use the facility together, though separated by species. In other words: While the Amur tigers, Asiatic lions and snow leopards remain among their own species they still can, thanks to a rotation system, use all four areas of Panterra in turn.
For the animals, this is an exciting enrichment that provides variety. With each change from one area to the next, new smells and traces of their predecessors await the «new tenants». In addition, hunting simulations encourage the animals' natural behaviour.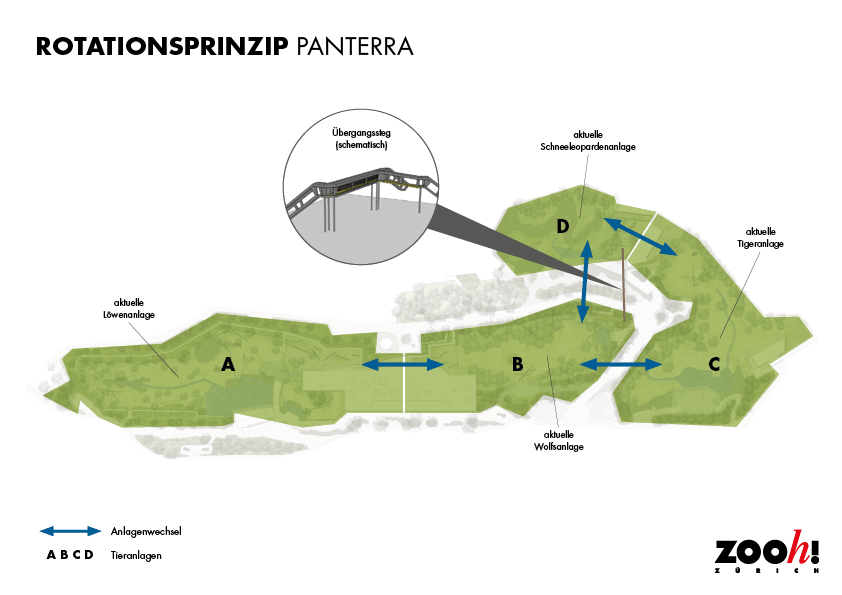 This is how it works: Panterra's rotation principle, shown schematically. Graphic: Zoo Zürich, Daniel Egger
The individual parts of Panterra are connected by bridges. These lead over the visitor path. Visitors who happen to be present when the big cats are changing form one part of the exhibit to another get a new and unusual view of the big cats. In addition, large windows give zoo visitors the feeling of being part of Panterra themselves.
The planned enclosure also brings new advantages for the Red pandas, which live in the same zoo region. They will gain access to trees in Panterra through an overpass and will thus be able to expand their range of movement. In addition, a walk-in enclosure with endangered insect and spider species will be created in the current lion house.
On a tour through the old big cat enclosures zoo director Severin Dressen and curator Franziska Dreier explain how the new habitat Panterra will be designed.
Video: Zoo Zurich, Nicole Schnyder