Zoo Zurich was founded in 1929 as a cooperative. In 1999 it was transformed into Zoo Zürich AG. 75 percent of the shares are held by private shareholders, the Tiergarten-Gesellschaft Zürich TGZ and the Zoo Foundation. 25 percent of the shares are held by the city and canton of Zurich (12.5 percent each). 
Zoo Zürich AG employs around 170 full-time and part-time employees as well as nearly 50 Zoo guides.
Martin Naville, President
Barbara Schmid, Vice-President
Dr. Thomas Heiniger
Martin Farner
Prof. Dr. Barbara König
Walter Stürzinger
Beat Sigg
Gerold Lauber
Dr. Severin Dressen, Director
Andreas Hohl, Vice-Director, Development & Logistics
Dr. Martin Bauert, Conservation & Husbandry
Markus Rege, Marketing & Education
Kurt Plattner, Finance & Controlling
Elena Girbau, Human Resources Management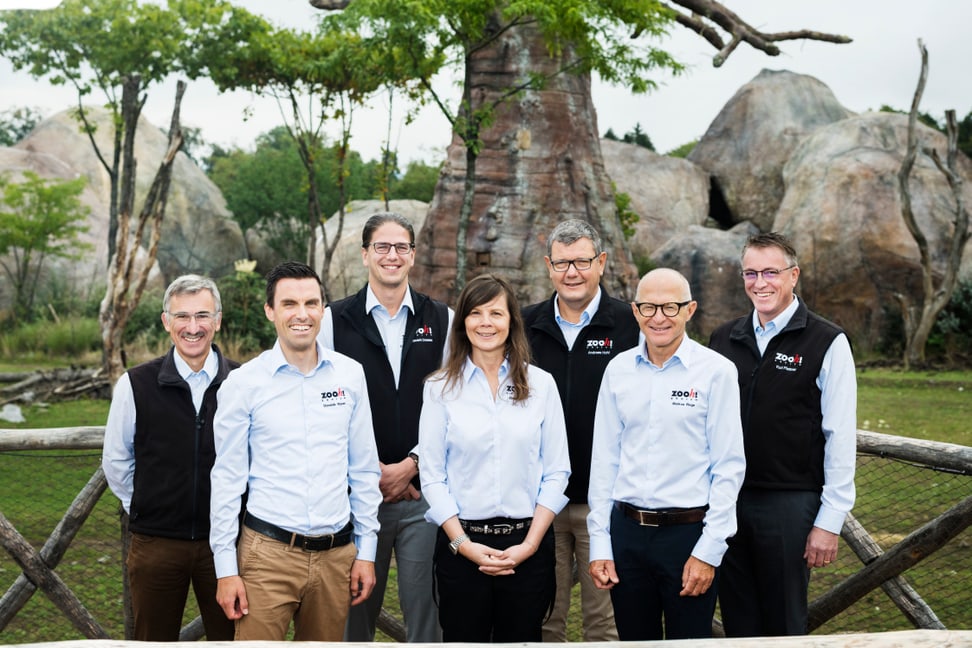 Extended management board of Zoo Zurich: (from left) Dr. Martin Bauert, Dominik Ryser, Elena Müller-Girbau, Dr. Alex Rübel, Andreas Hohl, Kurt Plattner, Dr. Robert Zingg, Markus Rege.
Zoo Restaurants GmbH, a fully-owned subsidiary of Zoo Zürich AG, manages the restaurants Altes Klösterli, Masoala and Pantanal, the Zoocafé, seven catering stands and the Zooshop and the Masoala Shop. The profits from the zoo restaurants and zoo shops go directly to Zoo Zurich in support of its ideal objectives. Two percent of the overall turnover from the zoo restaurants and zoo shops goes towards the nature conservation projects of Zoo Zurich.
Head of Gastronomy & Retail: Marcel Ritter
Staff: around 50 full-time and part-time employees and around 150 temporary employees