We highly recommend using public transport to get to Zoo Zurich.
June Special
From 1 to 30 June 2023, we have a special offer with SBB RailAway. Benefit from a whopping 50% discount on public transport travel (20% discount on travel within the network) and 10% discount on admission to Zoo Zurich.
notice: construction works at Toblerplatz
On Saturday, 10 June, and Sunday, 11 June 2023, travel to the Zoo from the City from Kirche Fluntern will be difficult due to a track construction site. 
Public transport
Tram line 6 will only run to the Kirche Fluntern stop. From there, replacement buses will run in the direction of the zoo.
The buses of line 33 will run as usual.
VBZ recommends planning your journey via the online timetable on vbz.ch; the diversions are already taken into account there.
Car
Toblerplatz and Krähbühlstrasse will be closed to individual traffic from 4 a.m. on Saturday until 5 a.m. on Monday.
Individual traffic will be diverted via Zürichbergstrasse.
Zoo Zurich generally recommends travelling by public transport.
SBB RailAway combination tickets offer discounts on train, tram and entrance fee to the zoo. The offers are available at all serviced train stations and at most ticket machines in Switzerland. More information and tickets: Tel. 0900 300 300 (rail service, CHF 1.19/min.).
You can reach Zoo Zurich easily and conveniently by tram and bus from the city centre and from Stettbach train station.
from Bahnhofstrasse/Zurich main station: tram 6 to final stop «Zoo»
from Bellevue (Stadelhofen train station): tram 5 to «Kirche Fluntern», then change to tram 6 to final stop «Zoo»
from Stettbach train station: bus 751 to «Zoo/Forrenweid»
from Zurich, Letzistrasse: bus 39 to «Zoo» or «Im Klösterli»
from Zurich, Römerhof: «Dolderbahn» (cogwheel train) to final stop, 20 minutes walk to the zoo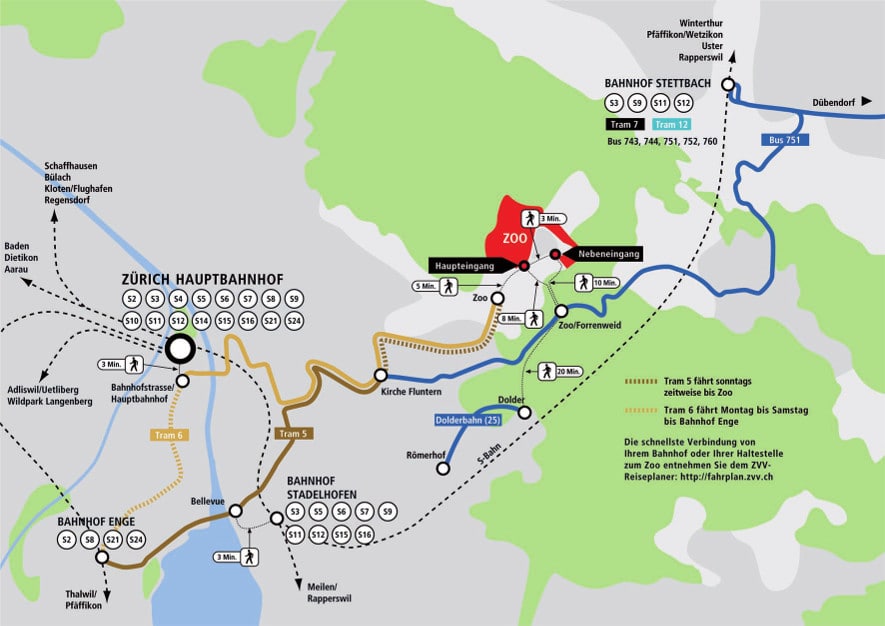 Tram and bus connections to Zoo Zurich.
Bike and pedestrian routes
Zoo Zurich can be reached via various cycling and pedestrian routes. We recommend to use the walking and cycling route planner provided by the city of Zurich:
The route planner is also available as a free app named «ZüriPlan». Download it from the App Store and Google Play.
Combine your visit to the zoo with a leisurely hike on one of the new family hiking trails from Burgwies, Milchbuck, Rigiblick, Schwamendingen or Stettbach directly to Zoo Zurich. To get you in the zoo mood, hiking mascot «Hiky» entertains you with various tasks to do with zoological themes on the way.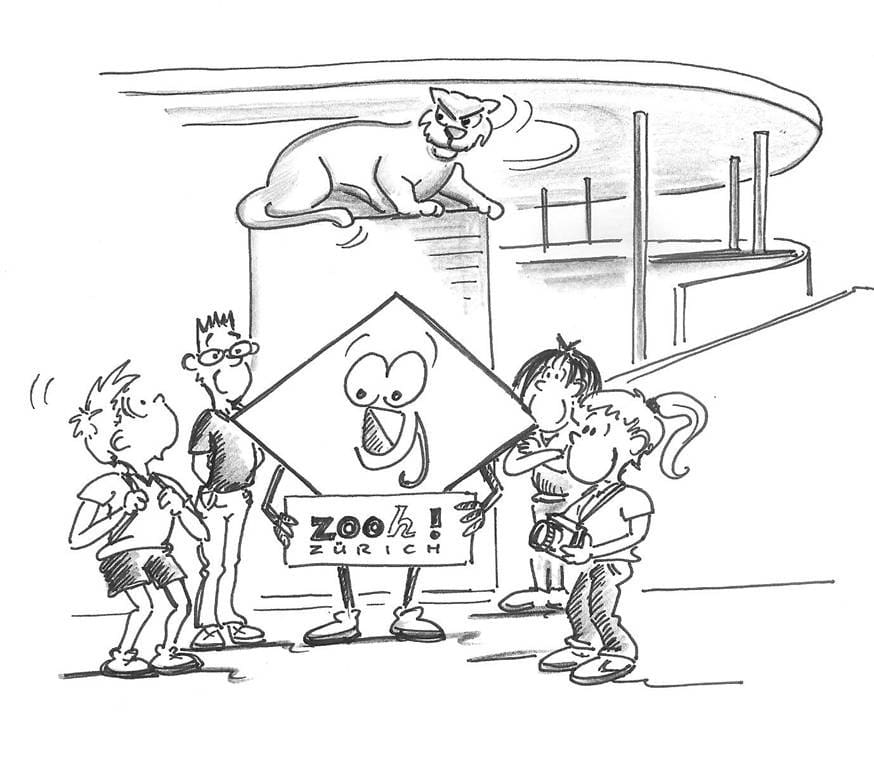 We highly recommend using public transport to get to Zoo Zurich.
Some metered parking lots are availabe in the vicintiy of the Zoo but limited in number. They belongt to the City of Zurich. If all parking lots are occupied, visitors are redirected to use external parking lots.
Overview parking spaces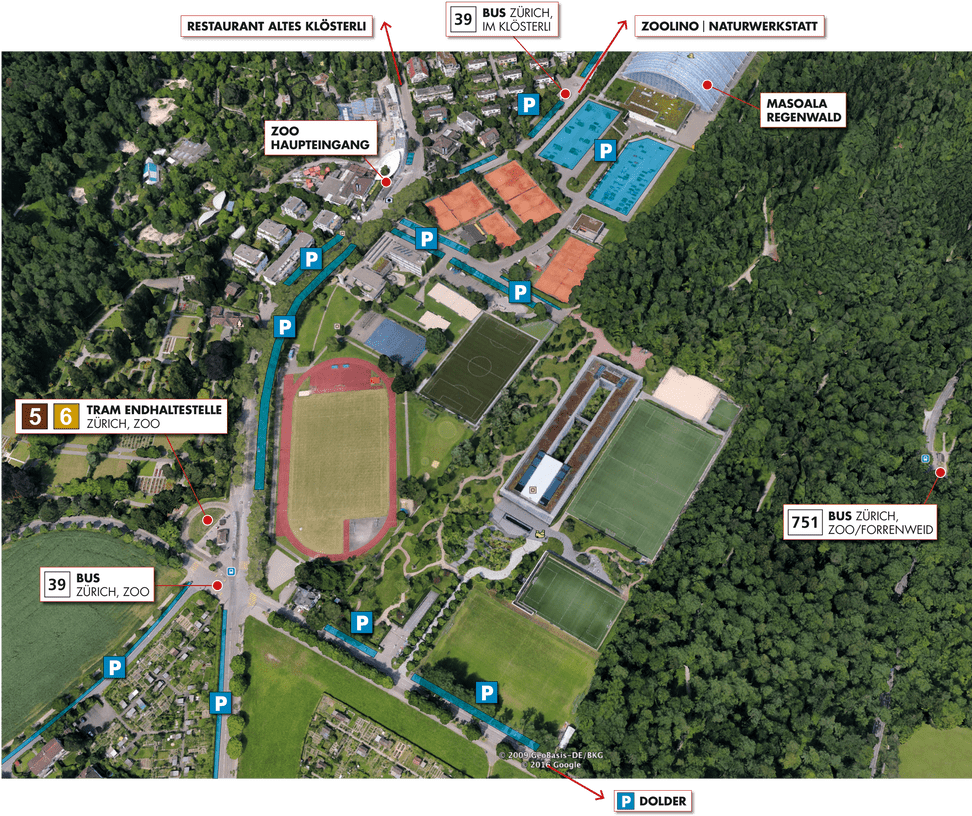 Overview of parking lots available at Zoo Zurich.
A shuttle bus regularly travels between the Eisbahn Dolder parking lot and the main entrance of the zoo.
Parking Fees
Monday to Saturday: CHF 0.50 per hour, max. parking duration 6 hours.
Sundays and public holidays (max. parking duration 8 hours):
½ hour: CHF 0.50
1 hour: CHF 2.–
2 hours: CHF 5.–
3 hours: CHF 7.50
4 hours: CHF 9.–
5 hours: CHF 10.50
6 hours: CHF 12.–
7 hours: CHF 13.50
8 hours: CHF 15.–
Information about accommodation, restaurants, shopping, sights and nightlife in Zurich:
Information about the ZürichCARD, the urban ticket for the City of Zurich: