The content of the exhibition «Human-Elephant Conflict» in the Kaeng Krachan Elephant Park is the coexistence of wild elephants and humans in the area of the Kaeng Krachan National Park in Thailand. Various stagings and information films address problems and possible solutions.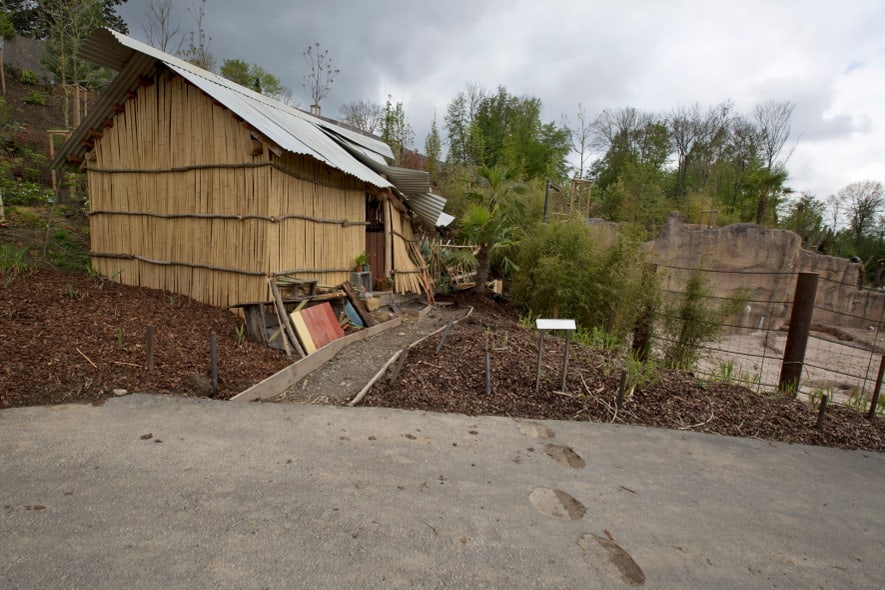 A damaged farmer's hut illustrates damage that occurs when wild elephants visit.
Conflicts between wild elephants and farmers occur again and again in Thailand. Within the Kaeng Krachan National Park there is an inhabited plain where small farmers practice agriculture. The elephants usually leave the forest at night and invade these fields. Valuable crops are destroyed in the process. The stagings in the Kaeng Krachan Elephant Park of Zurich Zoo address this conflict, for example with a partially destroyed farmhouse and an original fence including a guard hut. Other installations include a smuggler's box with real elephant tusks and a paper factory. Here, paper is made from elephant dung in workshops. A documentary film on the human-elephant conflict and Zoo Zurich's involvement in Kaeng Krachan National Park is shown on a screen in the underwater viewing area.