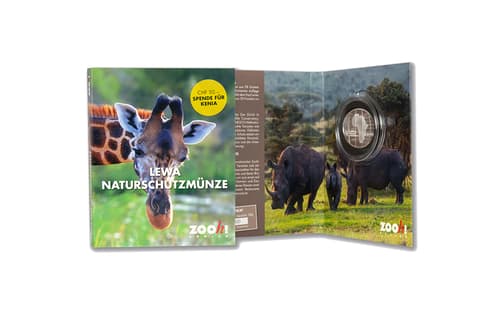 Lewa nature conservation coin
The Lewa nature conservation coin has a limited edition of 500 pieces.
It is made of silver Ag999 and weighs 28g.
With the purchase of a coin, a donation of CHF 50 will go to the Lewa project in Kenya. 
The nature conservation partner of Zurich Zoo in Kenya is the Lewa Wildlife Conservancy. The reserve is a UNESCO World Natural Heritage Site and is home to endangered animal species such as black and white rhinoceroses, elephants and grey zebras. To protect them, we jointly rely on well-trained staff, partnerships in the region and the support of the local population. 
We are involved in international breeding programmes for endangered species and are working to protect endangered ecosystems and their biodiversity in eight nature conservation projects. We can count on generous contributions from partners and zoo visitors, and two percent of all sales from our restaurants and shops go directly to nature conservation. 
ATTENTION: Available at the end of October
Payment Methods
We accept the following payment methods: