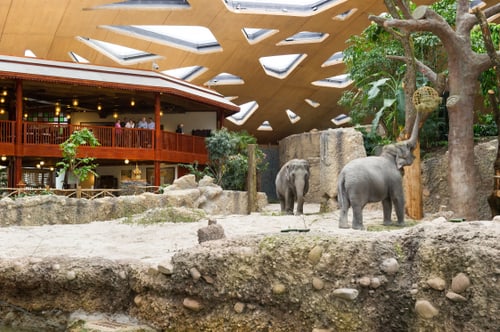 With this gift card you can give the gift of a dinner at the Thai Lodge of the Kaeng Krachan Elephant Park. The Thai evening at the Thailodge starts with a welcome drink and a guided tour of the Kaeng Krachan Elephant Park. This is followed by a sumptuous buffet of Thai delicacies. A Khim player accompanies the evening musically.
Programme
from 17:30 Meeting point at the main entrance of the zoo
17:50 Together to the Thailodge
18:00-18:30 Welcome drink at the Thai Lodge
18:30-19:30 Guided tour "Elephants at Kaeng Krachan" (German)
19:30-22:30 Thai buffet at the Thailodge
Asian buffet
The buffet includes various starters such as papaya salad, chicken skewers, dim sum with vegetables or wakame cucumber salad. The main courses include various curries, Thai noodles with vegetables, chicken in sweet and sour sauce with pineapple and chillies, and fried rice. For dessert, a rich dessert buffet is available. 
See the full menu at zoo.ch/thailodge. 
Children under 14 are charged CHF 2 per year of age.
ATTENTION: The purchase of the Thai Evening gift card does not constitute a valid booking.
Please book under:
Admission to Zurich Zoo is not included in the price of the Thai evening.
Please note: Due to high demand, we cannot accommodate seating requests.
The Thai Brunch gift card can also be purchased at the Zoo Zurich Visitor Centre near the main entrance. 
Vouchers and gift cards must be redeemed within 2 years from the date of purchase.
Payment Methods
We accept the following payment methods: