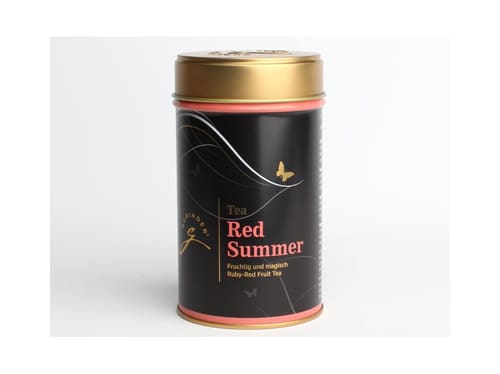 Gurinder Tea Red Summer 110 g
With its fruity ruby-red composition of elderberries, regional apple cubes and pomegranate peel, the Red Summer tea by Gurinder offers a real taste experience. Rosehip and hibiscus give the tea effervescence and strength, while the sweet notes of stevia and blackberry leaves skilfully round off the tea blend.
Enjoy our popular fruit tea as a treat between meals. On hot summer days, the iced Red Summer offers a welcome refreshment.
Ingredients: Hibiscus blossoms, rose hip peel, apple pieces, beetroot, elderberries, blackberry leaves, redcurrant leaves, stevia leaves, pomegranate peel.
Red Summer tea should be brewed at a water temperature of 95-98°C.
It is advisable to let the boiled water stand in the kettle for a short time before pouring it into your teapot or cup.
Brewing time: 5 - 7 minutes
Without added flavours
Loose Tea
Payment Methods
We accept the following payment methods: