As one of the first construction projects of the Development Plan 2050, a new nature conservation centre is being built at the location of the current information centre of Masoala Rainforest. Initial construction work will start in April 2022 (Masoala Restaurant and Shop). The main construction phase (new exhibition space) will follow from September 2022 to April 2023.
The experience
The visitors have just left Masoala Rainforest. They now find themselves in the new Conservation Centre: a large room with oversized films projected onto its walls. They are spectacular images that create effective visual impressions in a composition of drawn and filmed elements. Various seating options invite guests to linger in the middle of the room.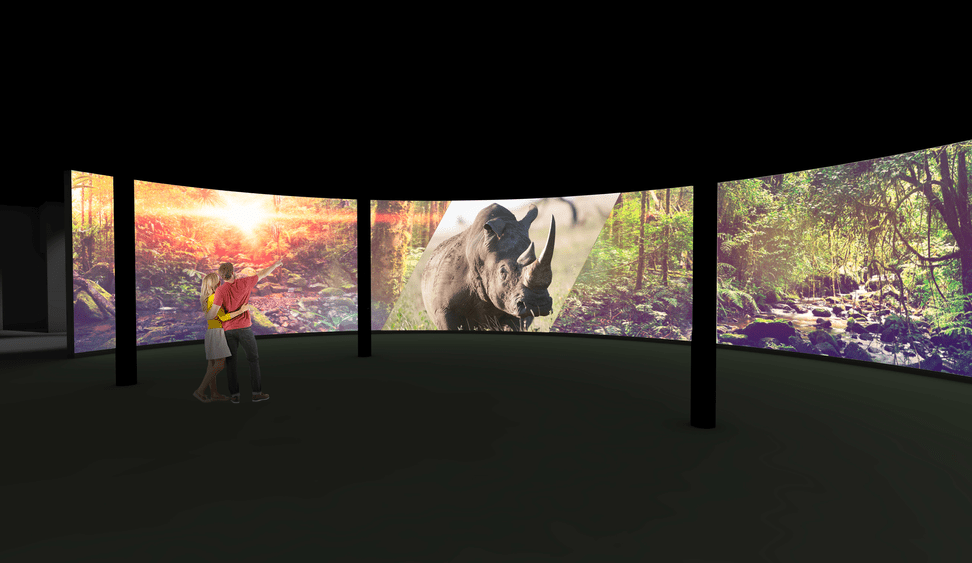 The planned big screen in the new Conservation Centre. Photo: Steiner Sarnen Schweiz
With these impressive large-scale projections, Zoo Zurich creates access to its commitments in Kenya, Thailand, Antarctica and Switzerland, to name just a few of the regions where the zoo is actively engaged in nature conservation. Those who want to find out more about the individual projects can obtain further background information from the interactive elements, which are designed for all age groups.
The new Conservation Centre raises awareness of what is too little visible and tangible for guests today: namely, the zoo's entire impact on threatened habitats in many places around the world.