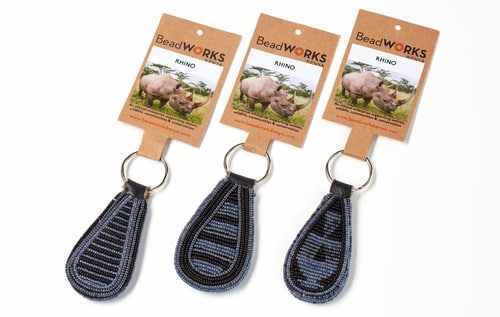 Keychain Rhino by BeadWORKS Kenya
Each keyring is absolutely unique - handmade by BeadWORKS craftsmen. Of course, this means that there may be variations in exact patterns and colours. 
The key ring has a length of 8 cm (without key ring). 
By buying a BeadWORKS product from Kenya you support:
Over 1'300 women in 9 protected communities, indirectly benefiting over 7'800 people.
A regular income guaranteed by traditional bead making and not by livestock farming that destroys habitat.
A healthy environment in which wildlife can flourish.
Bringing together women from different communities, leading to regional harmony. 
The education of children, medical care for families, and access to better food.
Boosting the local economy, promoting wildlife conservation and nature.
Thanks to the protection of BeadWORKS and its members, 53% fewer elephants have been poached since 2012.
Handmade by the various artists. 
Empower women, Protect wildlife. 
Payment Methods
We accept the following payment methods: