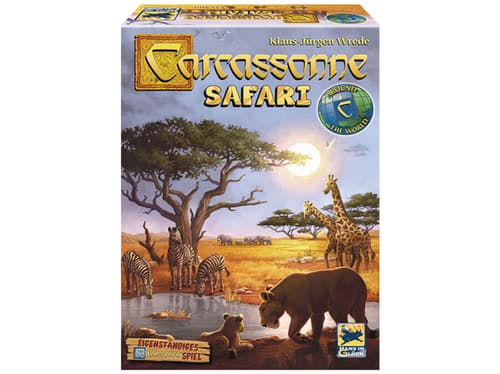 An animal-based game set in the African savannah for 2 to 5 players aged 8 and up. Tropical heat lies over Africa. We go to the African steppe, where everyone is on the lookout for the popular big animals of Africa. Monkeys swing in the trees, lions rest in the shade of the trees, the heavy footsteps of elephants shake the terrain. Many different animals cavort at the waterholes, so it is always worthwhile to lie in wait there.
Carcassonne Safari is a stand-alone game from the Carcassonne world. You don't need another game to play Carcassonne Safari. Go to the African steppe and look for monkeys, lions, zebras, elephants and giraffes. You will find them all gathered at the water holes.
Game material: 72 landscape tiles, 50 animal tiles, 1 starting board, 1 scoring board, 1 game rule, 30 small game pieces; 5 elephants, 2 ranger vehicles and 5 counting tiles.
Payment Methods
We accept the following payment methods: