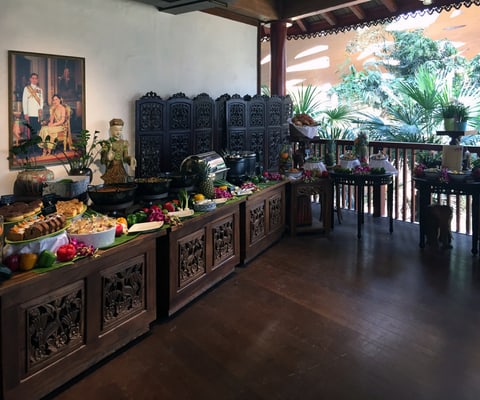 With this gift card you can give the gift of a Brunch (Breakfast & Lunch) at Kaeng Krachan Elephant Park. It takes place every Sunday from 9:15 am to 3 pm.
Breakfast from 09:15 am
The classic European breakfast buffet includes: 1 welcome champagne, juices, mineral water, organic coffee, organic tea, organic milk, ovo & hot chocolate, butter plait, croissants and various rolls, organic butter, various jams and more.
Thai Buffet from 11:30 am
The Thai lunch buffet offers Asian dishes such as Tom Kha Gai (coconut chicken soup with chicken and galangal), chicken sweet and sour, Massaman curry with beef, green vegetable curry, Thai noodles with vegetables, jasmine rice, glass noodle salad and more.
In the afternoon, there is also a selection of desserts in jars, sheet cakes and cakes.
All brunch guests will receive wristbands so you can go to the zoo in between. During this time, the tables will be given away. As soon as you return, our staff will assign you seats again.
Children under the age of 14 are charged CHF 2 per year.
Please note: The purchase of the Thai Brunch gift card does not constitute a valid booking.
Please reserve your brunch at:
Admission to Zurich Zoo is not included in the brunch price.
Please note: Due to high demand, we are unable to accommodate seating requests.
You can also purchase the Thai brunch gift card at the visitor centre near the main entrance to the zoo. Vouchers and gift cards must be redeemed within two years from the date of purchase.
Payment Methods
We accept the following payment methods: