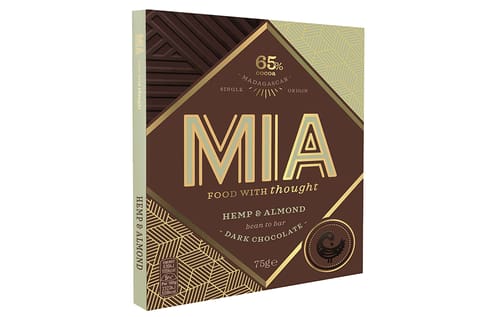 MIA Chocolate Hemp & Almond
Crunchy roasted almonds and the super-nutritious power of hemp seeds, have been added to 65% dark chocolate to create a texture that is undeniably nutty, but also smooth and creamy.
Ingredients: Cocoa mass, cane sugar, cocoa butter, almonds 3%, hemp seeds 2%, emulsifier (sunflower lecithin). Minimum cocoa solids: 65 %. May contain traces of milk.
Weight: 75 g 
Made in Africa: The MIA Mission
Every single item that bears the MIA name is made entirely by communities in Africa. To this end, we are honoured to partner with Proudly Made in Africa (PMIA). PMIA ensures that products are not only made in Africa, but primarily with locally sourced ingredients and materials, creating more jobs on a continent where a single income can feed an entire family.
Payment Methods
We accept the following payment methods: