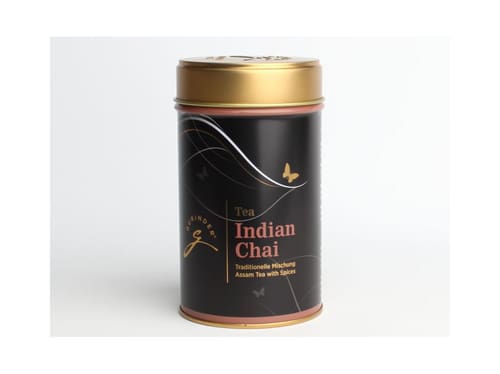 Gurinder Tee Indian Chai 130 g
Gurinder's traditional Indian Chai blend makes for a truly distinctive and original Chai experience.
Are you curious about foreign cultures, tastes and spices? Then travel to India. Or else: discover our chai tea at home! Turmeric, ajwain, cardamom, ginger, pepper and Assam Gold tea add something great to every cup of chai.
Sometimes it's enough to discover a new world with a cup of the best tea. The Chai Latte variant - with a little milk and sugar - has established itself on the menus of quite a few trendy restaurants.
Assam tea is named after the Indian region of Assam where it is produced. It stretches across the south-eastern Himalayas and borders Bhutan and Bangladesh. Our Assam tea was picked in the famous gardens of the picturesque Brahmaputra Valley.
Ingredients: Assam tea (black tea), cardamom, ginger, fennel, turmeric, aniseed, ajwain, Tellicherry pepper, cinnamon, cloves.
Indian Chai tea should be brewed at a water temperature of 95-100°C.
It is advisable to let the boiled water stand in the kettle for a short time before pouring it into your teapot or cup
Without added flavours
Brewing time: 5 - 7 minutes
Loose Tea
Payment Methods
We accept the following payment methods: