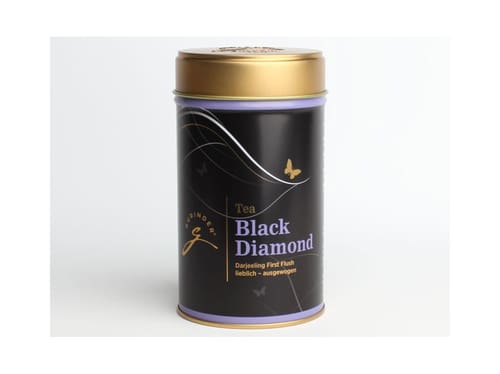 Gurinder Tea Black Diamond 65 g
The Darjeeling region in north-eastern India is a magical place - nestled in the foothills of the Himalayas.
The characteristic Darjeeling First Flush tea, from which Gurinder's Black Diamond tea is made, is one of the most sought-after teas in the world. It is picked on the steep slopes of the traditional tea gardens; by experts who have many years of cultivation knowledge.
Darjeeling is a delicate and exceptionally aromatic tea, made from two leaves and a bud. It tastes mild, with an unmistakably flowery, delicate and rich aroma. The infusion has a golden yellow colour and smells pleasantly fresh.
 A Darjeeling first flush tea as it should be - a true diamond.
Ingredients: Darjeeling tea (black tea).
Darjeeling tea should be brewed at a water temperature of 95-98°C.
It is advisable to let the boiled water stand in the kettle for a short time before pouring it into your teapot or cup
Brewing time: 2 - 3 minutes
Without added flavours
Loose Tea
Payment Methods
We accept the following payment methods: