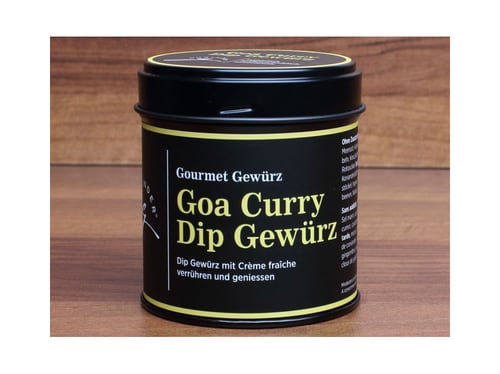 Gurinder Goa Curry Dip Spice 80 g
This spice from Gurinder exudes a touch of Goa.
Preparation as a dip
Mix 1 tablespoon of dip spice, heaped, with 100 g crème fraîche and leave to stand for 30 minutes.
Use
Excellent for vegetable dips, meat fondue, salad dressings, shrimps or for grilled food such as steaks, sausages or chicken salad. Also very suitable as a curry spice.
Ingredients: Sea salt, turmeric, black pepper, coriander, onions, cumin, carrots, chilli, fenugreek, raw sugar, mustard, mace, fennel, cinnamon flowers, coriander leaves, orange peel, pomegranate, lovage, ginger, parsley, chives, juniper berries, cloves, mango powder, lemon grass.
Without additives
Lactose- and gluten-free
Payment Methods
We accept the following payment methods: