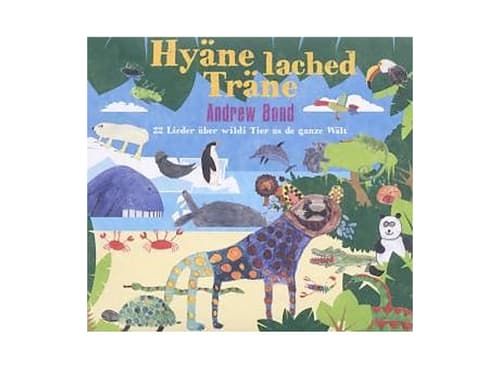 CD Hyena Laugh Tears by Andrew Bond
An elephantine animal song potpourri: 22 dialect songs about wild animals from all over the world across all continents.
What moves a sloth? Where does the chameleon hide in the jungle? The monkeys ask themselves: Where is the jungle? Attention snakes! In the steppe, hyenas laugh tears, elephant tents dance and a hippo takes part in a race: Hop Hippo!
In Australia it gets noisy, in the Arctic people are eating and in the sea dolphins and whales are usually very comfortable. But an old tiger feels lonely. Beavers bite trees. Was that a monster in Loch Ness? In the Alps there is room for everyone and in general: Hebed cares about the planet - the role of humans is also sung about.
Andrew Bond's lyrics are, as always, poetic, witty and full of depth. The music is as rich as the animals and landscapes sung about. Insiders say: Bond's best CD!
The songbook, richly illustrated by children, is like a musical hidden object book and will delight children and adults alike.
Published in 2011 with children's drawings from a competition.
Payment Methods
We accept the following payment methods: