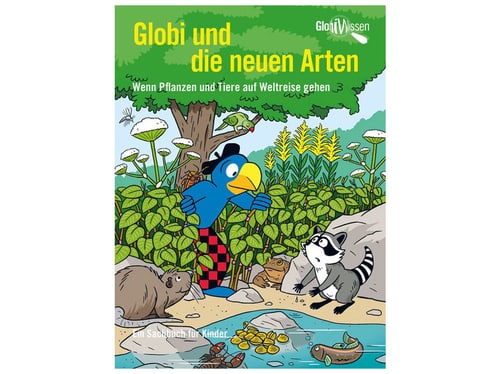 Book Globi and the New Species
WHEN PLANTS AND ANIMALS TRAVEL THE WORLD - GLOBI KNOWLEDGE VOLUME 11
Since time immemorial, animals and plants have been conquering new habitats and territories. In the course of globalisation in the 20th century, migrations, new colonisations, etc. have taken on a new and great dynamic. Today, many species can travel to new areas as stowaways, so to speak, on container ships, planes or travellers in cars or trains.
Some of the species spread so rapidly and strongly in their new area that they begin to displace the native species. These so-called "invasive species" now affect our ecosystems, landscapes, buildings, agricultural productivity and even our health.
The author, alias Globi, has travelled extensively for this book, talked to countless researchers and gathered his new knowledge in this book. The current topic is conveyed in a child-friendly way in factual and narrative texts.
A well-founded, informative children's non-fiction book
Entertaining and funny narration
A highly topical subject
Illustrations accompany the text and deepen the information
Payment Methods
We accept the following payment methods: