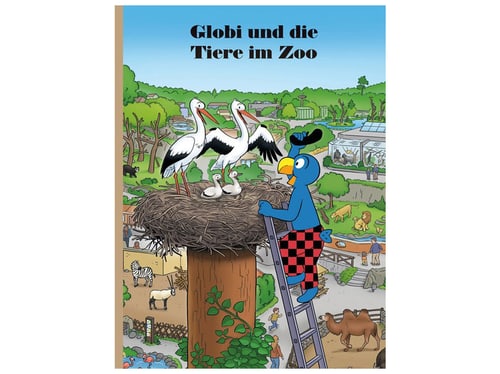 Book Globi and the Animals in the Zoo
Globi is strolling leisurely through the park when suddenly a little stork falls on his head. The little one had a collision with a helicopter. Globi hurriedly takes the injured stork to the zoo to see the vet. Globi, who is finally back at the zoo, immediately lends a hand.
And as always with Globi, something goes wrong. He is mistaken for a zoo animal, a cheeky thief steals his camera, and early in the morning he feeds the animals the wrong food: The lion grimaces at the sight of the green stuff, the monkey wrinkles its nose at the smell of fish. In many funny episodes, children can get to know the zoo business with Globi.
With a foreword by Zurich Zoo.
Recommended age: 3 - 12 years
Language: German
Creator of the Globi character: Robert Lips
Picture stories and verses: Jürg Lendenmann
Picture stories and drawings: Samuel Glättli
Payment Methods
We accept the following payment methods: