Zoo Zurich is committed to the protection of bats and has granted the Swiss Bat Conservation Foundation the right to occupy accommodation since 1998 with rooms for information and training activities, as well as for its activities as the Swiss coordination center for bat protection. Zoo Zurich operates the bat emergency care unit in the Zoolino together with Zürich Animal Protection and the Swiss Bat Conservation Foundation. Located next door is the freely accessible information and training center «Bat World», run by the Swiss Bat Conservation Foundation, where visitors can go on an interactive research trip through six themed rooms and discover exciting things about the biology of the thirty native bat species.
Video: Zoo Zürich, naturemovie.ch
The Swiss Bat Conservation Foundation coordinates bat protection in 19 cantons on behalf of the Federal Government. In the field of education and teaching, it campaigns for support for the endangered native bat species. Thanks to this educational work of recent years, the foundation laid the foundation for the widespread acceptance of the urgent protective measures. With its training and further education programs, it also built a team of more than 600 local volunteer bat protectors who work together with the cantonal bat protection officers.
Challenges
30 species of bat live in Switzerland, 15 of which are endangered or even threatened with extinction. Since they have different habitats, the causes of this threat are manifold.
When it comes to hideouts, these threats include the demolition of old buildings, the expansion of attics, the new, compact building envelopes with no shelter and, in the forest, the lack of sufficient old wood stock with tree hollows.
When it comes to the long flight routes from their daytime hideouts to their hunting grounds, which often cover several kilometers, the fragmentation of the landscape by roads, noise pollution, urban sprawl and light pollution cause problems for bats.
There is an increasing lack of insects in the prey-hunting flight lines because wetlands are disappearing, agricultural areas are being used more and more intensively, they are being designed in a less varied way and in private gardens, evergreen common plants dominate instead of native plants rich in insects. Bats are also exposed to pesticides. Their toxins are passed on to the next generation in the mother's milk.
Emergency care unit for bat foundlings
Bats in need can be reported on the bat Conservation emergency telephone number +41 79 330 60 60. The bat emergency care unit takes in lost, exhausted and injured animals, provides them with professional care and feeds them. As soon as the nurslings have recovered and have proven themselves to be agile fliers in flight training, they are released back into nature.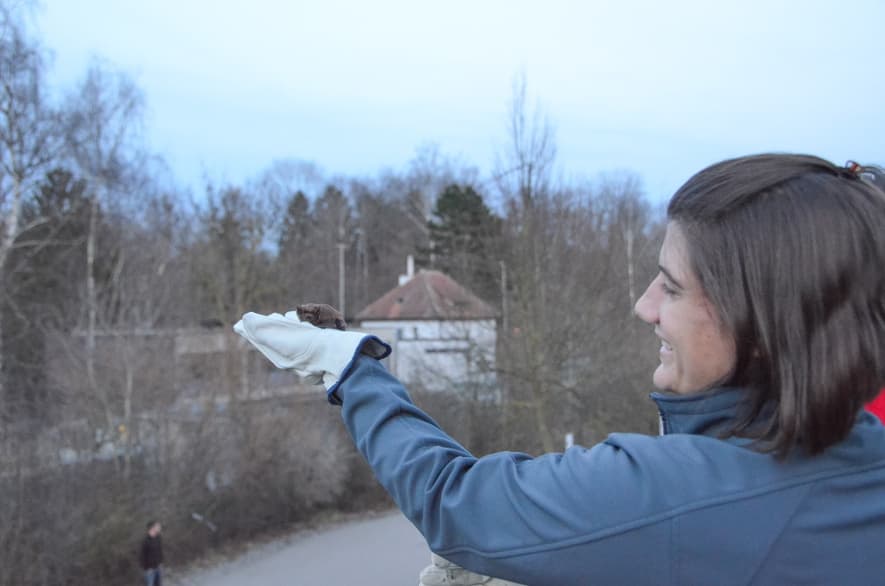 In spring, the nurslings at the emergency unit fly back to the great outdoors stronger and in good health. Photo: Stiftung Fledermausschutz
Preservation of bat hideouts
Zoo Zurich supports the Swiss Bat Conservation Foundation in its efforts to maintain known sleeping areas and nursery roosts of bat colonies in church towers, old roofs and hollow trees, and in its efforts to create new roosts for bats. The structures in the landscape that are important for bats and their prey are being promoted. Private homeowners can also participate and, for example, hang a bat box on their house wall. In the case of new external insulation, prefabricated bat hiding places can be integrated directly into the insulation. New bat shelters are also being built on motorway and railway bridges and on industrial buildings.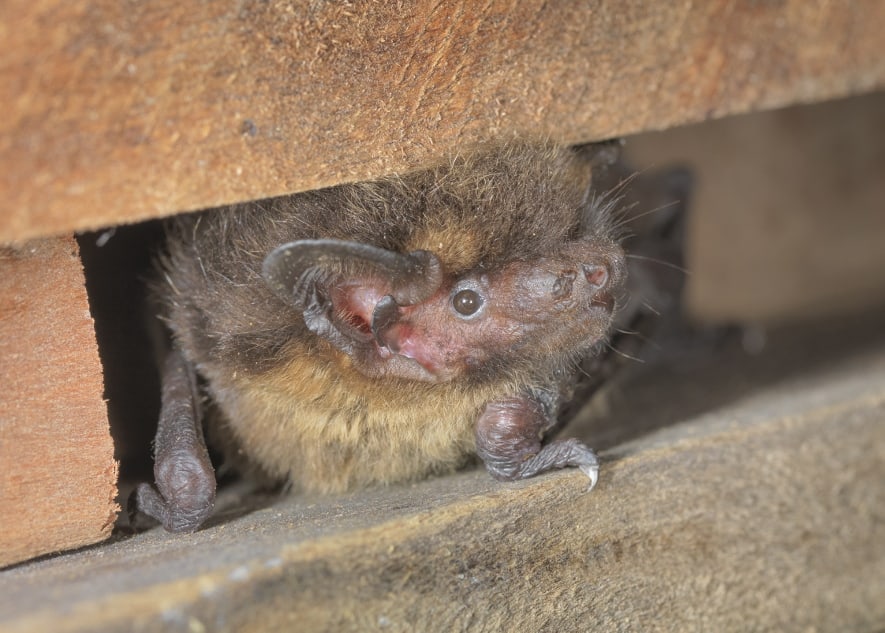 Northern bat. Photo: Stiftung Fledermausschutz
Broschüren: 
Artikel SAT/ASMV 8/2015